Early in March 1918 a highly contagious strain of flu appeared at a large army camp in Kansas, USA. By the end of the month of the troops stationed there 1,100 had been hospitalised of which 38 died after developing bronchial pneumonia, a hallmark of the disease. As U.S. troops joined the war effort they brought the virus with them which spread quickly throughout Western Europe and beyond. However, despite its high contagion this strain of the virus wasn't particularly dangerous. Its symptoms generally passed after several days, and mortality rates were similar to those of seasonal flu.

It was at this time that the disease was named "Spanish Flu", a misnomer that stemmed from wartime censorship. In the interests of maintaining public morale, the press was initially prevented from reporting the flu outbreak that was spreading through the armed forces. Spain, on the other hand, was neutral. It didn't impose wartime censorship and so it appeared from Spanish news reports that the flu epidemic was confined to that country, hence its name.

During the summer of 1918 cases of Spanish flu diminished leading to the belief that the virus had run its course — it had not. Somewhere in Europe a mutated strain of the virus emerged that had the power to kill a perfectly healthy young man or woman within 24 hours of showing the first signs of infection:

"THE EPIDEMIC. ― There is genuine alarm on every hand in London at the remarkable spread of the so-called 'influenza epidemic.' One hears the most extraordinary stories of people suddenly stricken down — some in the open streets — with this mysterious malady, and many dying within a few hours of their seizure. Doubtless some of these stories are exaggerated, but there is no gainsaying the fact that the disease, whatever it is, is still rampant. It would appear that there are not enough doctors to cope with the extraordinary demands which are being made upon them, and in the peculiar circumstances the Minister of National Service has certainly done the right thing in issuing an official notice cancelling all calling-up notices for medical examination of recruits, thus freeing a large number of medical men for service among the general public."
Bucks Herald, 2nd November 1918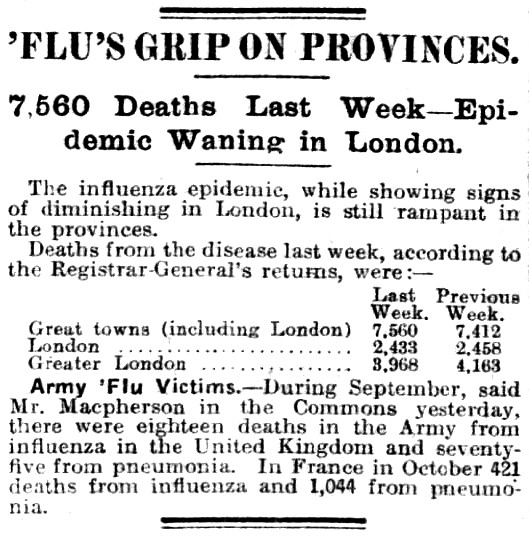 Daily Mirror, 14th November 1918

The second wave of the global pandemic had begun. What surprised the medical authorities was not the high mortality among the very young and old, but the high mortality rate among those in their prime of life:

AYLESBURY: HEALTH OF THE DISTRICT.—The Medical Officer's quarterly report showed that there had been 53 births and 215 deaths, 104 of which were non-native, thus reducing the actual mortality for the district to 111. Deaths from influenza alone numbered 80. Having observed every epidemic of influenza since 1889, he was much impressed by the liability of the present influenza to attack children and young adults. During the quarter there had been several hundreds of cases, and only one of those was over 50 years of age; in fact, most of them had been well under 40 years of age. In the 1889 epidemic old age was the factor which determined life or death in the broncho-pneumonia complications, but in the recent epidemic the reverse was the case.
Bucks Herald, 18th January 1919

In young, healthy adults, this virulent strain of flu virus triggered an immune overreaction that led to severe inflammation and a fatal build-up of fluid in the lungs, causing sufferers to drown in their own body fluid. This was in an age in which there was no influenza vaccine [1] nor were antibiotics available to treat pneumonia. [2] The only treatment available was a combination of fresh air, sunlight, scrupulous standards of hygiene, and reusable face masks; there is evidence that this did reduce deaths among some patients and the spread of infections among medical staff. There were, of course, plenty of advertisements for preparations, which, like the "carbolic smoke ball" of an earlier age, [3] were of highly doubtful efficacy in combating influenza: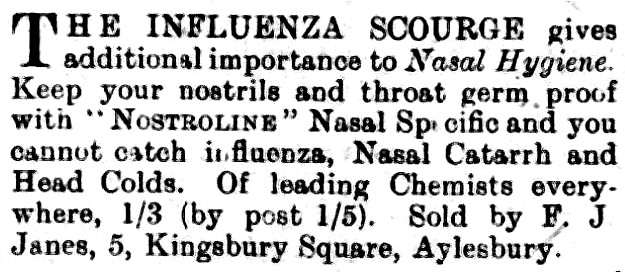 Advertisements from the Bucks Herald,
11th January (above) and 15th February (below), 1919.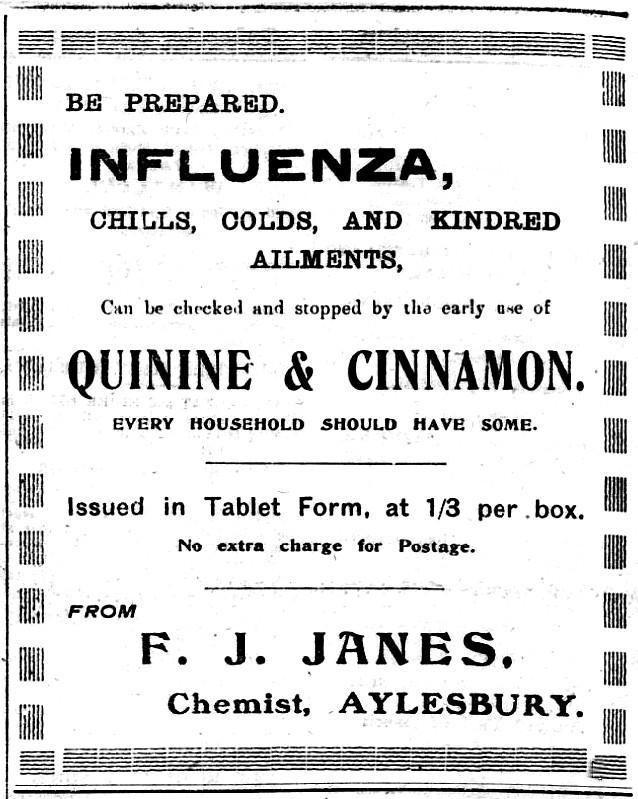 By this time censorship could no longer keep the lid on the pot and news reports began to appear, although compared with the national press and that covering the Eastern side of the county, Tring's paper, the Bucks Herald, has surprisingly little to say on the subject. The following represent some of its reports:

TRING: ROLL OF HONOUR
It is our sad duty this week to chronicle the death of the only son of Mr. and Mrs. Henry Fenner, of Pendley Lodge, who died in Bramshott Hospital on October 12 from pneumonia following an attack of influenza.

Lawrence Henry Fenner, who was 29 years of age, emigrated to Canada some ten years ago. Early in 1916 he joined the Saskatchewan Regiment, and after training proceeded to France, where in the great battle of Paschendale in November last he was badly gassed. He was sent home to England, where for a long time he suffered from the effects of the gas.

Being attached to the Bramshott Depot for orderly room duties, he there earned the highest esteem of all, both officers and men. Seized with illness he was taken to hospital, and passed away on Saturday, his father and mother being with him.
19th October 1918

DEATH OF ALFRED CLARENCE SAUNDERS.
. . . . eldest son of Mr. and Mrs. A. T. Saunders, of [Tring] High-street, after a very short illness . . . . Quite early in October Mr. Saunders had an attack of influenza, and pneumonia supervening he passed away . . . . Deceased was an architect, and held an important position in the well-known firm of Robinson and Roods . . . . having previously trained with Mr. Wm. Huckvale [Architect] of Tring.
26th October 1918

TRING: INFLUENZA EPIDEMIC.
There are a number of cases in the town, and the medical men are kept remarkably busy. Fortunately, there have not been many serious cases, and recovery is generally made with good nursing. A portion of the elementary schools, which were recently in the occupation of the military authorities as a hospital, have again been fitted up by local residents for the purpose of nursing influenza patients. The schools in the town have been closed during the past week, owing chiefly to illness amongst the teaching staff.
2nd November 1918

WIGGINTON: THE WAR TOLL.
We regret to have to record the death of another Wigginton man, Pte. Arthur Kingham (The Buffs), youngest son of Mr. Fred Kingham. Previous to being called up he worked for Mr. George Rowe, builder, etc. After training he was drafted to France, and had only been there a short time when he was attacked by influenza followed by bronchial pneumonia and died Oct. 19.
2nd November 1918

TRING: PRIVATE JAMES EDWARD AYRES
James Edward Ayres, of Akeman-street, who is well known in the district, having for many years acted as porter at local auction sales, and waiter at many public functions, and also newsagent for Sunday papers, joined the army less than a month ago. On Wednesday last week his wife was sent for to Woolwich, where Ayres was in hospital with influenza which was followed by pneumonia, and soon after her arrival he passed away. The deepest sympathy is extended to the wife and daughter in their bereavement.
2nd November 1918

WIGGINTON: THE INFLUENZA.
There are so many cases of the prevailing epidemic in the village that the Day and Sunday Schools have been closed by the medical authorities. It was the cause of death on Thursday, Oct. 31, of Mr. W. Gurney. He leaves a widow and ten children, five of whom are under fourteen. Much sympathy is felt for the family.
9th November 1918

CHESHAM: INFLUENZA.
The number of deaths of young people from influenza in this locality is alarming, and week by week there is a heavy obituary list. It is noticeable that many of the deceased were particularly strong young people.
7th December 1918

TRING: PRIVATE ARTHUR FRANK WELLS.
Frank Wells of Albert Street, was carried off after an attack of influenza somewhat suddenly at a hospital in France . . . . He was 41 years of age, and before joining the Army Ordnance Corps some three years ago was a tailor in business for himself. He leaves a widow and three children . . . . he was buried in Blargies Cemetery on the day following his decease.
1st March 1919

FARR: IN MEMORIAM.
In ever-loving memory of my dear little DAVID, who died of chronic bronchial pneumonia, following influenza and measles, on July 10th, 1919, aged 2 years and 8 months.
In my thoughts day and night,
darling, as long as life lasts.
C.F.
10th July 1919

TRING: EX-OFFICER'S SAD DEATH
Mr. Albert T. Grace, who after a long and painful illness contracted on active service, passed away at Kennington Hospital for Officers . . . . He took part in the heavy fighting of the opening phases of the German offensive in 1918 around Kemmel and Ypres . . . . With his health undermined by his service in the East . . . . he was invalided to England . . . . He appeared to be making good progress and hopes were entertained for his recovery, but influenza and pneumonia supervened, and his death resulted before any of his relatives could be summoned.
31st January 1920

In the early 1970s, British historian Richard Collier placed adverts in newspapers around the world asking for memories of the 1918 Spanish influenza pandemic. He received over 1,700 replies, which he used to provide material for his book The Plague of the Spanish Lady (Macmillan, 1974). Elsie Phillips Cole writing from Tring had this to say of her experience:

"My husband was in France ... I had 3 children under 4 years, boys. I remember one night in particular, I slept between the cots of my two eldest and we all had high temperatures from flu – but I was nursing my baby just the same – there was no time to wean him. The boys were restless and tossed and muttered – but the baby slept on, unusually, till I was dressed and when I took him from his cot he was practically unconscious and limp.

"I had read in The Daily Mail that the French treated the flu successfully by taking nothing but brandy for 3 days. By the grace of God I had about 1oz. of brandy left and I began to wet the baby's lips with it and got a little down him till he became fully conscious. I looked out of the window for help and saw the empty car of the one doctor left in Tring. I raced downstairs and got in the car till he came out of his client's house and got him to see my baby and in no time he had the very efficient District Nurse in to help me. My daily help had not been able to come, as her brother was on leave from France and he was down with the flu and my sister and parents, who lived near also and their staff had it.

"There were isolated Cottages where all the inhabitants lay dead and unattended (3 to be exact close to Tring) and the National School was turned into a Hospital, but with 3 trained Nurses in charge. But the 3 nurses caught it, 1 died and 2 ended up in a mental home. My aunt volunteered but gave up when she had it."

A third and dangerous wave of Spanish Flu emerged in 1919, and with infection being spread by troops returning home the mortality rate was as high as in the second wave.

The end of the war eventually removed the crowded munitions factories and the cramped and insanitary living conditions of the troops that had combined to allow the disease to spread so far and so quickly. It is now believed that no other pandemic in history killed so many in such a short time as Spanish Flu. [4] In view of its high mortality, sad to say there is no public memorial in the UK to the victims of the Spanish Flu pandemic and to the medics and others that strove to help them, but this reflects international practice with New Zealand providing one exception.

By 1920 the Spanish Flu virus had become much less deadly with its effect eventually diminishing to that of ordinary seasonal flu.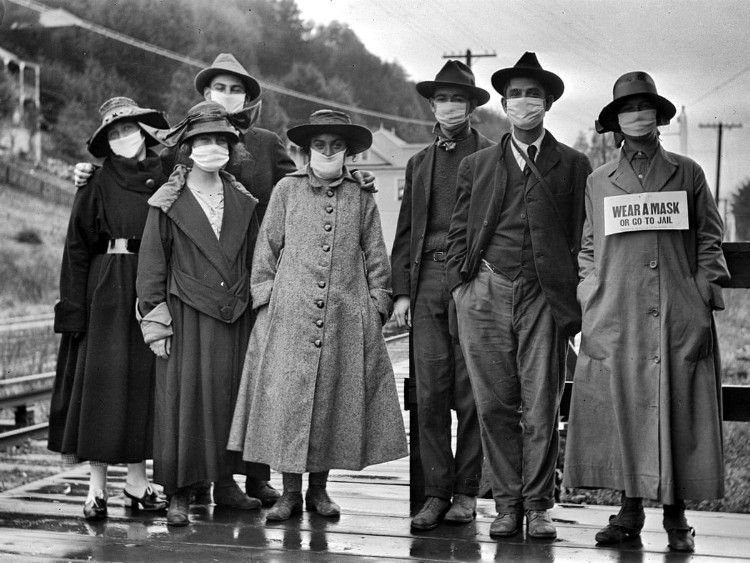 Ian Petticrew
January 2022

――――♦――――

Footnotes

1. Viruses were demonstrated to be particles, rather than a fluid, by Wendell Meredith Stanley, and the invention of the electron microscope in 1931 first allowed their complex structures to be studied. During the Second World War the US military developed the first approved inactivated influenza vaccines (these vaccine used fertilised chicken eggs, a method that is still used to produce most flu vaccines). At the same time mechanical ventilators became available, which allowed the breathing of patients suffering respiratory complications to be supported.

2. M&B 693 was one of the early generation of sulphonamide antibiotics (aka sulpha drugs). Originally produced by the British firm May & Baker Ltd in 1938, it was the first chemical cure for pneumonia. Penicillin did not become available for civilian use in the UK until 1946.

3. The Carbolic Smoke Ball Company made a product called the "smoke ball" filled with carbolic acid, which, it claimed, was a cure for influenza and a number of other diseases. This bogus claim resulted in the leading case in English contract law of Carlill v the Carbolic Smoke Ball Company (1893, 1 QB 256 Court of Appeal).

4. It is estimated that about 500 million people or one-third of the world's population became infected with this virus. The number of deaths was estimated to be at least 50 million worldwide with about 675,000 occurring in the United States.
Centre for Disease Control and Prevention