Extracts from the Uxbridge Pioneer
No. 1, February 1849,
either written by or attributable to Gerald Massey.

Contents.

TO OUR READERS (unattributed, but much in Massey's style).

MAY DAWSON. BY T. G. M.

I WAS NOT MADE MERELY FOR MONEY-MAKING (A POEM).

"A THING of beauty is a joy for ever," and a good Poem is a beautiful thing; it raises us above the pinnacle of party-zeal; all our feuds are forgotten; we stand as on the Mount of Transfiguration, and we feel it is good to be there. All the springs of Nature that fill the ocean-heart with love—are open. If we turn to some glorious burst of song that flashes, lightning-like, from the eternity of the past, others are warming at its spirit-fire, and we are brothers unwittingly. Poetry, in all times has been a mighty power to raise the world, and whether king, hero, or statesman, has struck the climatric hour of the revolutions of progress, be sure the poet moved the wheels behind. What a wonderful effect on the fate of nations has the Marsellaise wrought. This inspiration (there is more poetry in the music than the words) is engraven on the soul of France, and will never perish. Kings tremble at its sound. Its notes rustle like a flag dipped in gore; it is thermopylæ embodied in words of fire and in music that never dies away; it is what the world has often felt, yearning like a god within it, but was never before written. When slaves open their eves and see the chains on their limbs and their oppressors standing over them free and unshackled; when the spirit stirring within them trembles with the shudder of intrepidity and grows too large for its habitation, this is the hymn of utterance. It will make the blood tingle, and whole armies of men will sing it with eyes burning and weeping, and hearts defiant of despot, death, or devil, and it will yet shake the feudal strong-holds of Europe.

Poetry is not confined to rhyme, or rythm; there is much poetry in Michelet's Prose, also in Emmerson's Essays, particularly 'Love' 'Over-soul' and 'Self-reliance'. A poor woman wrote thus to her son in spring-time. "Write to me, spring is here; the woods are green, and musical with birds; the flowers are golden at my feet—I cannot step unless on flowers; the beautiful sunlight comes from heaven like smiles from God; I see, hear, smell, and know it is spring, and I long to feel a gush of spring in my poor heart."

This was poetry although she knew it not, and there is much poetry among the poor, if not in their dwellings there is in their hearts, and a light is coming to unfold it. Poetry never dies, it lived and breathed when the earth, like a bud from God's home of the beautiful, was flung out into the universe to
blossom; and it shall not die when the sun looks down on the last furrow in the sands of time.

A man may be a poet, yet never pen a stanza; it flows in his life inasmuch as a man's life may be his poetry, so a man's poetry may be his life. The life of Christ is eminently poetical; "he went about doing good." Is not that a beautiful expression? for there is no christianity but goodness. That one injunction of his "Love one another" is a poem in itself. Oh, if this were realized, there would be no bickering of creeds, no martyrdom for new ideas. Poets seek a world of thought, to live in, because, the world of reality is harsh and cold. If their ideal dreams were grasped, and we lived in love, there would be no need to write poetry; but it is yearning for the unattained. This proves how far we are from perfection which the mind can conceive; and yet we shall arrive at this perfection, or we could not conceive it, for, we are as great as aught we can comprehend; we cannot comprehend the Almighty, therefore we are not as great.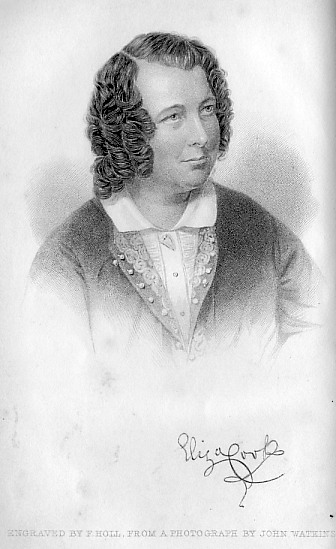 Eliza Cook
(1818-89)
The poetry of the people has yet to be written, and great poets are coming from them. "Hear ye not the hum of mighty workings?" they have sent forth early buds, but it was not yet Spring, and the tender nurslings have been crushed by the cold breath and iron hoof of wintry circumstance, but it shall not ever be so; the poets that are springing up now are from tile people, and will stand by the people; that is the reason the lying shout is raised "There are no poets now." Is Eliza Cook the less a true poet because she does not sit down to adulate the "divine right" of royalty to be worshipped? A thousand times, No!! We have received her third volume. She at least is a true poet and of the noblest nature. She is a very Moses in our night of Egyptian gloom.—a sweet bird that singeth out above the storm. She is ever welcome, but doubly, when our sky is wintry as now; it is a noble heart on which rests her lever to raise the world. Hark! to her inspiring voice.
"Up! though I tread a dazzling ridge,
"Excelsior" is a noble shout;
I'd climb on any rainbow-bridge
To let my heart look further out.
We bless her for that, and thank God we have lived to read it. We hope poor Thom saw the lines* to him from his sister child of song; if so, we think it must have been a sweet drop in his bitterest of bitter cups. England has no Burns nor Béranger, but she can boast of Eliza Cook. They may tell us of poets metaphisical, ethical, and philosophical; but give us Eliza Cook, her's is the unsophisticated music of the heart. We have no space for extracts from this delightful volume.—we can fully appreciate its value, and it may appear selfish, but we cannot help regretting that it is not brought out like Mackay's Lyrics, at a price to be obtained by the lowest of the people, so that it might work its humanizing mission more speedily, and scatter its welcome light where hope is growing grey with continual watching, and spirits faint by reason of much longing.

* Editor: Massey is referring to the following:—
William Thom
(1799-1848)

TO WILLIAM THOM,
THE INVERURY POET.

[Written after Reading his Poems.]

OH! my heart is aching, Willie,
And mine eye forgets to shine;
Heavy sighs are breaking, Willie,
From this trembling breast of mine.
Thou hast caused the gentle woe,
Thou hast wrought it all, Willie;
Thou hast bid my bosom throe,
And my hot tear fall, Willie:
Oh! that I were less like thee;
Then this anguish would not be.
O'er thy draught of sorrow, Willie,
I have hung with smileless lip;
The cup is sad to borrow, Willie,
Yet a kindred one will sip.
Thy spirit, like the willow, grieves
In fresh and fragrant suit, Willie;
With beauty in its drooping leaves,
And strength about its root, Willie;
A spirit every breeze may shake,
But not a thousand tempests break.

Thou hast oft been smitten, Willie,
With a hard and stunning blow;
Truth's rough hand has written, Willie,
Lines of anguish on thy brow.
Death and Want, with goading might,
Have bowed thee to the earth, Willie;
But darkest mines will give to light
The gem of matchless worth, Willie;
And thus thy lay of rarest power
Has sprung from Misery's hopeless hour.

Though thy harp is lonely, Willie,
It has strings so sweet and deep,
That honest nature only, Willie,
Could have taught thee how to sweep.
'Neath the weaver's lowly roof,
Bravely hast thou done, Willie;
Blending ,with thy warp and woof,
Beam-threads of the sun, Willie,
That will shed a fadeless ray
When you and I have passed away.

Take this leaf of laurel, Willie—
Brighter ones to thee belong;
Yet thou wilt not quarrel, Willie,
With a sister's greeting song,
I cannot bind with worldly chains,
I cannot give thee wealth, Willie;
But I can bless thee for thy strains,
And wish thee Peace and Health, Willie:
And hold thee as a shining one—
Poor, but GOD'S high-hearted son.
Eliza Cook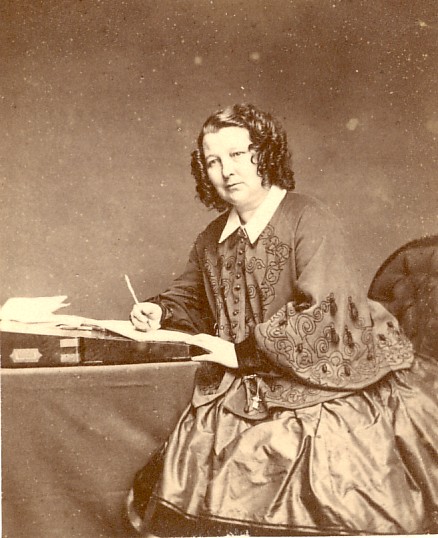 Eliza Cook

IN the olden time, when "Bess" was queen of "Merrie England," and used to ride upon the "silver Thames" (tisn't very silvery now), in her burnished barge, while all the City bells rang out their loudest welcome, and the bursting shouts of the people rent the air around her canopy of gold; when ladies hooped and furbelowed to such a rotundity, as not to be embraced at less than twice; when men could be whipped, imprisoned, made minus of ears and noses, and burned for opinion's sake; when the demon—steam did not tear through the country on his iron-harnessed, fire-bowelled, thunder-hoofed horses, making the earth quake at its leviathan strides—levelling woods and clefts,—breaking through pleasant villages, shouting through mountain-passes like something infernal run mad—frightening old women out of all antiquated propriety; when there were no such ' unked' things as bottled lightening and talking wires; when dainty ears were not offended by hearing of vulgar mechanics' institutes and improvement societies for the people; when the gibbet stood by the way-side, like a kind finger-post, pointing the way to heaven—Sweet virgin queen! Oh, golden days! In those days, there lived in the ancient town of Woxbrigge, an old man; it matters not what his name was, but he had been at the court of Harry the Eighth, and boasted of having been kindly patted on the cheek by "Bess," as he knelt to kiss her hand when she was a princess. He had a hundred villains or vassals, possessed broad lands, and had plenty of gold—gold that bringeth brightness to the eyes and water to the mouth, and he was a tyrant, cruel and proud. Dark were the rumours whispered about the death of his wife; some hinted that murder had been done, but none dared say it in his presence. At the time we write of, he had two daughters, real English beauties, two roses kissing on one stem. Well, the old man was so jealous of these, that he would shut them up for days, if he saw them speaking to any of the noble cavaliers, who came from far and near to see so much loveliness; and he would keep them upon bread and water, if he caught them blowing a kiss to the despairing gallants: he was a very dragon guarding this Hesperides of beauty. Alas! for the old man's watchfulness. Love laughs at locksmiths, old husbands, and old fathers. He one day discovered that both his interesting protèges were in a state he least expected! His first thought was—instant annihilation of both; his next—to commit suicide on himself; the third—he did not know what to do, and so he did nothing! Deep, however, and settled became the old man's passion for retaliation, and at length he determined to watch the opportunity to detect the guilty ones and their lovers together, and have some terrible revenge. It was very evident they did meet. But how? There's the rub!

One day the old man feigned to be going a long distance. Oh, this was happy news to the wicked young girls: it happened to be the very evening their lovers were coming. The old man was no sooner out of the house, than he plunged into an adjacent shrubbery, to watch events. For eight long hours the old man waited, cursing, and biting his finger nails, and counting the trees for dinner and tea. At length, toward evening, he espied something fluttering from the window of his daughters' bedchamber, which was about twenty feet from the ground; it seemed something like half-a-dozen scarfs (which he had presented to them) knotted together. What could it mean? Cautiously and stealthily the old man stole forth and, on laying hold of the end, suddenly found himself dangling in the air. Thump, thump, he went against the wall, and could not help exclaiming "Oh!" He was, however, speedily refreshed by hearing a voice exclaim, "Hold on a minute!" Already he could hear the dear creatures panting, as they tugged away most vigorously. One more bump, and the old man's white beaver and red face were above the window-sill, when, with a shriek of horror, the lovely girls let go their hold, and down fell the old amoroso—broke his neck, and died!
T. G. M.
To Harriet.
Air—"Grammachree."
No jewell'd beauty is my love,
Yet, in her sunny face
There's such a winning tenderness,
She needs no other grace;
Her smiles and words around my heart,
In light and music twine,
And dear, oh, very dear to me,
Is this sweet love of mine.

'Tis sweet to know there's one fond heart
Beats kind and true to me,
It sets mine leaping like a lyre,
In living melody;
My heart upsprings a deity,
To hear her voice divine,
And dear, oh! very dear to me,
Is this sweet love of mine.

If ever I have sigh'd for wealth,
'Twas all for her I trow,
And if I win Fame's blushing wreath,
I'll twine it on her brow;
There may be forms more beautiful,
And eyes that brighter shine,
But none, oh! none so dear to me,
As this sweet love of mine.
T. G. M.
______________

The Uxbridge Pioneer.

Uxbridge, Thursday, February 1st, 1849.
_______

TO OUR READERS.

ABOUT three years ago, a few young and earnest men of the Town of Uxbridge met together* for the mutual purpose of exchanging ideas and instructing each other, and from that little assembly emanated the present Young Men's Improvement Society, which is now full of promise and flourishing vigorously. We meet together on a footing purely equable and fraternal, without governor or president. This is delightful; but there is still a something wanting: we would bring stronger effort to the wheel of progress; we would like to talk to the world at large—tell them what we have found, and share the inexhaustible treasures of Knowledge with them. There are societies like our own springing up in many parts of the land; we would communicate with them, extend to them the right hand of brotherhood, and call them friends—friends of humanity in the broad sun-light of the living present; we would drop the plummet of our united minds into their's, and extend the circle of thought; we would call forth the images of beauty, which (like babes sleeping), still live and breathe in the poor man's heart, though unwittingly; we would make our footsteps legible in the mountain-ascent of the future, so that others, when weary with climbing, and seeing our track, with tears of joy shall bless those who have gone before. We would fain win the drunkard from the pot-house, before all his kind affections be deadened; and the heart of the selfish from the money-till, before the divine glow of love shall cease to hover round it. To aid us in this endeavour, with many a trembling hope, and also many a throb of the inward MUST, we usher into existence The Uxbridge Pioneer. No great gun will announce our natal day—no literary lion will give us its patronizing roar. Yet we trust the critic will look with kindly eye upon our young production. We will, if possible, avoid striking twelve in our opening paper, and of afterwards dwindling into a quiet tic-tac. We hope to make future numbers better than the present one.

When pondering over the condition of the Working Classes we have wondered why they are so obscure, and it appears to us that their history has not been written, and that, because they have not written it themselves; true, many have started from our ranks,—the greatest men our mother-land has given birth to, have been from the people,—spirits that have stood up like Saul among his warriors, and walked like Gods among men. But there have been others, and their name is legion, who have risen up, mounted from the people's shoulders—the ladder of Fame, and when on the summit have been kicked down the ladder,—they have borne false evidence, they have stirred up a suspicious hatred in the minds of the wealthy against us,—they have bartered an immortal birthright for a miserable mess of pottage; when we have figured in the perfumed boudoir as the heroes of romance, has it not been in the garb of a thief, of a burglar, or a murderer? We tell them we are none of these; true, we have horny palms and many of us wear fustian jackets, but we have no feud with lord or duke, and were not Truth and Freedom born in a manger?

Who denies that Poetry, the flower of the world blossoms in the lowly walks of life? we have seen it springing up amid thorns and bushes and in the crevices of city pavements. Who denies that the gem of Mind lies amid the depths of poverty? We know of men with souls that out-strip the sun, who often eat the mouldy crust baptized in the tears of misery. We have been misrepresented, but the time is coming when working men shall trim the lamp of knowledge with their own hands in their own cottages, aye, and write their own history too! not with white kid gloves on, nor with silken pens dipped in rose-water.

Some there are whose continual speech is—"This world is a thorny waste, a howling wilderness, but they strew thorns where there are none, we suppose with the meritorious idea of making men better by the method fabled, to make the nightingale sing more melodiously, i. e. by sitting on a thorn; but we believe
This world is full of beauty,
As other worlds above;
And if we did our duty,
It might be full of love!
We would fain have it as God intended it should be, a pleasant place; we would fain write flowers and draw it nearer heaven. It is a slow and wearing work this improvement of the world, yet faith is not dead within us. We have faith in the glorious sons and daughters of Genius, who are permeating the mass of humanity with divine influences; faith in our own humble efforts; faith in the past year of wonders, for we believe in that, Progress has made its mighty strides too indelible in the sands of time for the waves , of re-action ever to wash them out; but greater is our faith in the future: we have sickened over the blood-written records of by-gone times, and with others have sometimes half doubted whether the world would ever produce better men or time bring better days, but 'tis in the future lies our dearest hope; the burning words spoken in the holy name of Liberty have not been breathed in vain.
Not in vain have madden'd millions
Fed the fiery jaws of war;
Or turned murderers resign'dly,—
Not in vain have myriads blindly,
Bled 'neath Wrong's gore-splatter'd ear!
Look at the giant energies now put forth by the people of all lands. See Science standing one foot on sea and one on land, with hands grasping the stars, unfolding the mystery of the universe,—then ask whither are we tending: the sky of the future seems open, and we become astronomers of the world's destiny. Yes! the book of fate, unfolds, and we read a brighter page. The light is about to surge on the mountain tops. It is a light to the good, and the bad must be revealed in its beams.
They may not see it who moil
For the world's good alway,
And yet, who would not toil
To win the welcome day?
* At the house of Mr. G. Austin, Windsor Street.

SWEET May Dawson! She was once the rustic beauty of our village; her voice was music to the suffering and comfort to the weak. The cripple would pause on his crutches to bless her as she stopped to make some tender inquiry, and the young and hale would go anywhere, or do anything to win the kind word or beautiful smile from May Dawson. I remember on one occasion, when May was ill, of getting up at midnight and going three miles to "fetch the doctor," even though I had to pass the "haunted ash," a feat which few of our younkers dared to accomplish after dark.

The mother of May had died in giving her daughter birth, her father had fallen during the Peninsular war. Thus May was ushered into existence alone, unfriended, except by the protection of her grandfather, who already wore the silvery crown of age. But her orphan state and her kindness to the old patriarch were ample to win the affection and love of every one, even if she had possessed no claim to beauty, but she was beautiful—
There was nothing of the sunburnt ripeness which characterizes the peasantry about her intellectual face, neither was it pale, but placidly fair; at times it wore a serious tenderness, which made it sweetly sad. It might be, that thoughts of her mother came across her mind like cloud­shadows over a sunny field; but, generally it was a countenance lighted up, and singularly happy! It was full of music, and yet you could not tell wherein lay its unity. Her voice would haunt the heart and ears of the listener for many a day; I have never forgotten hearing her warble the following
Her eyes deep as the blue Heaven at midnight, were such as when bent on one, lovingly, seemed to call forth the whole divinity of the soul in a moment; you would have felt their presence e're you had known her to be near you; they were of that kind (if there be others like them) which make the boy spring into manhood unaware. Such was their effect on me. In the height of my youthful fancy, I could have suffered any pain, I could have died for May Dawson.

Dear Reader! only turn and think of what your feelings were when you first beheld the perfection of your soul's ideal of woman personified, and you will not smile at my boyhood's happy madness.

Lovely and without stain, was this "cynosure of neighbouring eyes," when I left my home for that wilderness of men—London. Years, those fathomless gulphs of buried joys and miseries, went by on wings of swiftness; some of my hopes had been realized, very very many had perished; the grass had grown green over the last long home of the loved and the lost, smiles had become channels for tears in many a well known face.

As I was passing up Regent Street one evening in the summer-time, grown quite familiar with the dizzying sound, and the jostling of the multitude, who seemed to pass on as in a dream, I saw at the top of the Quadrant (by the bye, the destruction and removal of which classic ornament, I do not consider an improvement to the Metropolis) a group of those daughters of sin—poor outcasts of the world, who are driven to sell the sweet name of love for bread; and one of them came behind me, and, touching me on the shoulder, asked me to "stand to." I knew that voice! and turning round, Great God! May Dawson stood before me!—the once pure and beautiful May Dawson!—pale and emaciated. She knew me not. I felt as if I had an egg in my throat,—a sickening thrilling ran through me, I could not speak, for a thousand pangs seemed to tear the fibres of my heart. Taking my silence for consent she took my arm also. At length I turned to her, and she smiled only as they can smile whose hearts are breaking. Her voice had grown hoarse, her eyes once lustrous with love's passionate light now seemed to scorch what they looked upon; I could scarcely think she had once been a thing so fair, and yet, to me, she was May Dawson still! I talked to her of early days, and she wept; I saw the big tears roll down her sorrow-blighted face; She told me how she had been seduced by one the world calls "noble,"—how she had been betrayed—flung from the bright eminence of love—spurned from the door of her lordly seducer, by a slave in livery of crimson and gold, and cast out to the mercy of the trampling town. She wept! and the bud of repentance seemed to lift up its head and bloom in the dew of those tears which sprung from her burning heart. I offered her gold. She looked at me through her blinding tears and mused as though her reason wandered.
"May," I said, she looked at me for a moment pierceingly, and exclaimed, "Who are you?" darted away before I could tell her; but she knew me.

Again, and again I went to the same place, hoping to meet poor May once more, but I could never see her. One bitter cold night in December, of the same year, I had occasion to pass over Westminster bridge, it was very late and a wild dreary night; no moon, no stars; they were muffled in the dark driving clouds; the sleet piercing cold beat in my face, with a fire-like sting; the wind came at intervals mourning along the deserted streets like the mourning of a sleeper's heart yearning to weep; the lamplight fell on the pavement in a long cold glare;—midnight sounded from the old abbey clock, and a thousand tongues echoed "Midnight." The river Thames ran black and turbulous, gurgling through the frowning arches with horrid sound; it was a night to make a stout heart quake. I was about the middle of the bridge, when a wild shriek, a long last cry of agony rose on the howling blast, and a heavy plunge in the waters below, told me that some one had dared death in desperation. I ran back to the bridge pier, directed by the shouts of the watermen, who were seeking to recover the body alive, but it was too late—life had departed. Impulsively I pressed forward, and saw it was a female; by the dim light of a lantern, I could see the long, dark tresses hanging loose, and partly congealed into icicles. The wind flapped the scant coverlet which they had thrown over the corse, (Aside for a moment.) and I saw the never-to-be-mistaken features of "May Dawson",—dead! dead!

Memory of what had occurred at last came to my stunned senses, and as the tears gushed in my eyes, the lines of dear Tom Hood rushed in my mind:—
I know where she sleeps now,—in the grave-yard of ——church; there is a lonely tomb near the wall,—no mourner was seen weeping when she was lain in the night of earth; but often when I have an hour to spare, in London, I steal to this lonely grave, and drop a tear to the memory of May Dawson.
________________

I was not made merely for Money-making.
Toil, toil, till Death be welcome,
And life is filled with dreariness;
Till brain grows dizzy, and senses reel,
And the heart aches in its weariness.
Till emotion is numb'd, and the spirit crush'd,
And the sunlight of rapture ne'er fills the eye,
Till the tenderest feelings that sweetly gush'd
Sered in their budding-time, sicken and die.
Oh God! Oh God! must this ever be
The lot of the child of Poverty?
The Spring is calling from field and bower,
In the twinkling light of the sunny hour:
Earth smiles in her golden green!
There's music below! in the diamond leaves,
There's music above, and Heaven's blue bosom
heaves,
The silvery clouds between!
The boughs of the woodland are nodding in play,
And wooingly beckon my soul away.
I hear the dreamy hum
Of bees in the lime tree—of birds on the spray,
And they, too, are calling my thoughts away;
But I cannot, cannot come.
Oh, I yearn to rove in the cowslip meadows,
And lie among the green leaves and sleeping
shadows,
Where the violets in beauty are waking.
My soul longs to burst this galling tether,
And float over earth in the warm spring weather;
To nestle at restin the bird's leafy dwelling,
And hear their sweet voices of music upswelling!
To stretch on the green grass, with heaven o'er me
blushing,
And love for all things in my happy heart gushing;
For "I was not made MERELY for Money-making."

At my daily task, I oftentimes halt,
Forgetful of my duty—
The storm and the strife, and the wrestle of life,
To talk with the Spirit of Beauty.
The multitude's hum, and the chinking of gold,
Grow hush as the parting of day;
For on wings of rapture, with joy untold,
My heart is up and away.
Clad as the bird in the tree-top, chanting
Its song of liberty,
That long hath been cag'd, in slav'ry panting:
And oh, 'tis a joy to be,
Once more to drink the pure, balmy air,
Lapp'd in a luxury of honey'd flowers;
To recall again the pleasures that were
In childhood's innocent hours!
To wash the stain and dust from the soul
In Nature's reviving dews once more;
To feast at her banquet and drink from her bowl
The nectar that cools the heart's burning core.
It is but a dream, yet 'tis passing sweet!
And when from its spells my spirit is waking,
From my darken'd heart the wild tears start;

My soul leans out to the whisperings
Of the mighty—the wonderous spirits of old,
And skyward leapeth to flap her wings,
When Labour relapseth its earth-binding hold;
And in breathless awe entranc'd it listens
To catch night's starry mystery!
Or in mine eye dissolv'd, it glistens
Big, for Humanity!
Much that is written within its chamber
Much that is shrined in the mind's amber;
Much of this thought of mine
I fain would struggle and give to birth;
For I would not pass away from earth,
"And make no sign."
I fain would utter what might live on
In the world's heart, when I am gone.
Oh, I would not sink like thousands benighted,
Live in the world's shadows, and die in its gloom;
For whom life's faint candle's but dimly lighted,
Making more ghastly the cold, dreary, tomb!
I would not live like those slaves of gold,
Who shut up their souls in a dusky cave;
I would see the world better and nobler soul'd,
Ere I dream of heaven in my green-turf'd grave.
They tell me I've chosen the bitter part;
I did not choose it—to me it was given—
This gift of song—free, as love comes to the heart;
And I'll cherish it, aye, as a spark from heaven!
I may toil and toil, till Death be welcome.
And life is filled with dreariness,
Till heart be broken, and senses reel,
And my spirit be wreck'd in its weariness
I may labour for ever for tear-steep'd bread,
Till I go down to the silent dead;
But, by this yearning, this hoping, and acting,
"I was not made MERELY for Money-making."
GERALD.