FOR many years Mr. Gerald Massey has lived in seclusion. He has set himself, or, as he would say, has been set, a formidable task, and devotes all his time and strength to its accomplishment. He shrinks from publicity—"I am like a creature down at the bottom of the ocean drawing breath from another world." He has never been "interviewed" in this country, various interviewers having tried in vain to induce him to submit to the process. He says he does not want to be heard of until his magnum opus is finished. While regretting that since 1870 he has only intermittently touched the lyre, his friends and admirers of his poetry would rejoice to see him, in his seventieth year, the storm and stress of his early days almost forgotten, in his peaceful nest at Norwood, surrounded by his family, and living a happy, quiet, industrious life. He is indifferent to the world's estimate of himself and his work; not that he is in the least cynical or misanthropic, but that he has reached a point where he is unaffected by praise, blame, or silence. His study of Egyptian lore seems to have invested him with sphinx-like assurance and placidity. With a calm, passionless face, surrounded by fine grey hair, a kind, tolerant expression in his steady grey eyes, and wearing a red woollen cap, a white cravat (no collar), and a short check jacket, he look's like a rabbi. Yet in intercourse you find him intensely human, and altogether unlike the common notion of a mystic.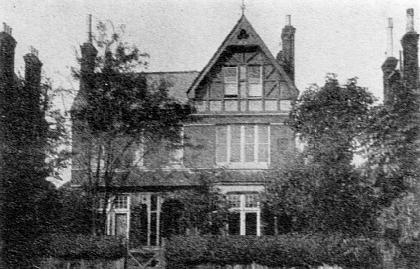 Anru
The name Mr. Massey has given to the house in which he has resided for the past four years was suggested by the special line of study he is pursuing, Anru, or more correctly Aanru, being the Egyptian Garden of Eden or Paradise. He came to Norwood from "Rusta," Lordship Lane, Dulwich, where he lived three years. The previous thirteen years (1877-90) were spent at Bordighera Villa, New Southgate. Here he had much trouble and sickness, losing by death two daughters. The old name of New Southgate is Colney Hatch, and, when he went to reside there, paragraphs appeared in the American papers regretting that Mr. Massey was in a lunatic asylum; the New York Times was not at all surprised, having prophesied in a leader where his opinions would land him! From 1866 to 1877 he had lived at Ward's Hurst, near Ashridge, Hertfordshire. The late Lord Brownlow and his mother, Lady Marian Alford, were great friends of the poet, and gave him this place for life. Lady Marian actively interested herself in securing the Civil List pension of £100 enjoyed by Mr. Massey since 1864. Local associations may be traced in Mr. Massey's poems, but external nature is to him chiefly background, his interest being almost entirely in the human. "In Memoriam" was written on the death of Lady Marian Alford's eldest son, Spencer, and "Carmina Nuptialia" on the marriage of the present Lord Brownlow.

Many who are familiar with the poetry of Gerald Massey know little of his history or personality. Few lives have been more remarkable than his. Thomas Gerald Massey was born on May 29th, 1828, in a flint-stone hut at Gamble Wharf, near Tring, Hertfordshire. His father was a canal boatman. He traces whatever he has out of the ordinary to his mother—"a fiery-spirited, great-hearted little woman"—prototype of "Christie's Poor Old Gran," "Christie" (Christabel) being his eldest daughter. His schooling was of the scantiest. He attended a British school and also a night school in Tring, but says he did not get much from either. At the age of seven he went into a silk factory, where he worked from six in the morning until half-past six in the evening for ninepence per week. He says, with a laugh at the recollection, that as a boy he was an inveterate gambler, and on the Saturday lost all his first week's wages at pitch-and-toss. When he had been some time at the factory it was burnt down, much to his delight. He was then put to straw-plaiting, and after three years at that he got a situation at a boarding-school, but he had to leave—"because," he penitently explains, "the girls used to kiss and hug me." So at fourteen he was packed off to London. His first lines appeared in print in the Aylesbury News in 1843. Soon afterwards he issued a shilling pamphlet of poems. "Affectedly enough, I called it, after Béranger, 'Poems and Chansons, by a Tring Peasant Boy.' What a long time it takes to grow out of the affectation of youth, which is only super-consciousness! That is the wonder of Burns—from the first he seems to have been as unconscious as a bird."

He began life in London as an errand boy in a draper's shop, and in the course of two or three years found himself behind the counter. Meantime, he commenced to write what he now describes as "wild, red republican rhymes." In '48 he joined in the Chartist agitation, and on the memorable 10th of April was nearly cut to pieces by the police at Kennington. In '49 he started a monthly paper, The Uxbridge Spirit of Freedom, eleven issues of which were published. In '50 he published "Voices of Freedom and Lyrics of Love." About this time he came under the personal influence of Maurice and Kingsley, became a socialist, and was for two or three years one of their Secretaries. At twenty-two he married a well-known spiritualist medium, "The Clairvoyant Jane," and some of his tenderest poems were written at this period.

Having drifted into literature, he became associated with Julian Harney (now, in his eighty-first year, lying seriously ill at Richmond), who was then editing The Northern Star, Fergus O'Connor's paper. When that stopped they started The Star of Freedom, which was financed by a man named Leblond, head of the firm of Benetfink and Co. Mr. Massey also acted as a London correspondent to the New York Tribune. In 1854-5 he was secretary to Mazzini's society, the Friends of Italy.

In 1854 Mr. Massey published what he considers his first "volume," "The Ballad of Babe Christabel, and Other Poems." It was an immediate success. "That was the only time," the author remarks with a quiet smile, "that I ever had any 'booming.' Hepworth Dixon caught sight of the little volume, and showed it to Douglas Jerrold when they were going to spend a Sunday at Brighton. Dixon wrote seven columns about it in the Athenæum, and Jerrold wrote a flaming review in Lloyd's. That sent it spinning. Five editions were sold in one year; but as each had to be reprinted I did not make much by it. Other reviews were quite as eulogistic as anything that has been written about Rudyard Kipling. I did not dream of such success. I wrote a great deal better verse after that which did not get much recognition." Among those who were attracted by the young poet was George Eliot, who took him as her model of Felix Holt.

Early in 1855 Mr. Massey removed to Edinburgh, where he published "Craigcrook Castle." He lived in a flat in Henderson Row for three or four years; here two of his children died, and here he wrote "The Mother's Idol Broken." For a short time he edited the Edinburgh Evening News, and also wrote for the North British Quarterly Review, and for the Witness. In 1856, Dixon asked him to review poetry for the Athenæum, and this he did for ten years. He also wrote for the Quarterly Review for five or six years under Macpherson's editorship. Leaving Edinburgh in 1858, he took to the lecture platform, and for the next ten years or so was in great demand all over the country. "I have never had any diffidence in facing an audience; in fact, I was hardly conscious of the audience. I seemed to be isolated, or, rather, insulated." In March, 1866, his first wife died, and in January, 1868, he married the present Mrs. Massey. Of the first marriage there were three girls and a boy; two of the daughters are living. Of the second marriage there were four girls and one boy; two of the daughters and the son are dead. In 1869 he published "The Haunted Hurst, A Tale of Eternity"—"founded," he says, "on a personal experience in a house that was haunted. This 'did for' me in a literary way. A well-known editor spoke of me as having deserted Liberalism and gone over to 'those spiritualists.' "

Since the appearance of the "Tale of Eternity," Mr. Massey has written very little verse. In 1890 he issued a collection of "poems old and new" in two volumes, under the title of "My Lyrical Life." Several editions have been called for, and in each of these he has inserted a few new short poems.

In 1872 Mr. Massey published a little volume "Concerning Spiritualism," which has long been out of print. In the same year he gave four Sunday lectures at St. George's Hall, and publicly proclaimed himself a spiritualist: "Until then I had a considerable lecturing connection, especially among Young Men's Christian Associations—my poetry was accepted by the religious world as particularly pious. I had between seventy and eighty winter engagements; the season following my avowal of spiritualism I had only seven!"

I asked Mr. Massey to tell me about the research work in which he has long been engaged. "I had always been an evolutionist since I thought out anything," he responded, and in 1870 I got the idea that the human race originated in equatorial Africa. I set to work, and tried to trace the origin of language, typology, theology, etc., to Egypt. I found that our islands are full of things Egyptian—place names, water-names, customs, etc. I have compiled a vocabulary of a thousand English words derived from the Egyptian. I have been at this work for twenty-seven years, and in two or three more years I hope to complete my task. I have been over the ground three times. First I treated the subject philologically, and that is the result" pointing to two imperial octavo volumes entitled "The Book of Beginnings: An Attempt to Recover and Reconstitute the lost Origins of the Myths and Mysteries, Types and Symbols, Religion and Language, with Egypt for the Mouthpiece, and Africa as the Birthplace." "But I found that words did not go back far enough—sign-language and hieroglyphics preceded words; so I tried typology, and the outcome is 'The Natural Genesis'"—two volumes uniform with "The Book of Beginnings." "My researches showed me the necessity of something still more fundamental, and I am now working at the earliest imagery and astronomical mythology. I wrote the first two volumes in the dark, the second two in the twilight, and I am writing the last two by day."

Mr. Massey drew my attention to a nest of large pigeonholes, each containing a pile of matter—typewritten by his eldest daughter, who helps him in his work. One division was labelled "The Language of Animals;" another, "Totemism as a Primitive Mode of Representation;" another, "Myth as a Primitive Diode of Representation;" another, "The Kamite Astronomical Mythology;" these being four titles out of a score or more sections of the concluding two volumes, which will be entitled "Ancient Egypt the Light of the World." "I am going to show," the author explained, "that Egypt was the light of the world. Nothing could be clearer to my mind than the Egyptian origin of the Babylonian mythology. When my work is done I shall have established the Egyptian origin of the Hebrew legends and of the Christian doctrines. To mention only three of the doctrines called Christian. Six thousand years ago the Egyptians taught the fatherhood of God, who was revealed to men by His own Son—He who says of His Father, 'I utter His words to the men of the present generation (i.e., the Living), and I repeat His words to the dead.' He taught in two worlds—in one as human, in the other as a Spirit. They had the Christian doctrine of the Trinity, with Osiris as the Father, Horus as the Son, and Ra as the Holy Spirit, which three were one in essence and threefold in identifiable phenomena. They had their Christ or Anointed, who rose again from the dead as the Krst Mummy, the spiritual body, or Sahu, in the person of Amsu-Horus. I hold now that the authors of the documents from which the Gospels were written must have worked from a copy of 'The Ritual,' and the explanation of the great difference between John and the Synoptics is that he has retained much more than they of the original matter. I can parallel the sayings of Jesus one after another from 'The Book of the Dead.' "

I asked Mr. Massey whether he reads much modern literature. "Very little," he replied, "unless it is likely to give me a new fact or suggestion, or help me to trace an origin. I have read no poetry for years. I have not read Tennyson's and Browning's later volumes; I read enough of their poetry in earlier life when I used to review it. I reviewed Browning in the Quarterly and Tennyson in the Athenæum. Darwin speaks about certain faculties having died out in him; I don't think I have lost the faculty of appreciating modern literature, but I certainly have not cultivated it. I should read a new novel by Hardy or Meredith. No, I have not read 'The Christian'; 'The Manxman ' is the only book of Hall Caine's that I have read. The only paper I take is the Daily Chronicle. I never see the Athenæum or any of the literary papers. My wife takes the Cornhill. I can see the Nineteenth Century whenever I want to, but Mr. Knowles has made it a mere collection of snippets; it is leading article all through. I have come to think less and less of the mere literary faculty; it is so limited, it is only a very small part of a man."

"Did you ever meet Browning and Tennyson?"

"Yes. When my little book, 'Concerning Spiritualism,' appeared, Lord Tennyson - then plain and preferable Alfred—wrote to me saying, 'I have read your book more than once, and have bought copies of it to give to friends.' Browning I used to meet at Ashridge when he visited Lady Marian Alford. I wrote the article in the Quarterly on Browning, which led the Spectator to say that it was very timely, because the tide was running against him, and it was glad the Quarterly had set itself to stem it. I reviewed Browning again and again in the Athenæum."

"Matthew Arnold—Herbert Spencer?"

"Matthew Arnold wrote very kindly to me two or three times, but I never met him. I used occasionally to see Herbert Spencer at John Chapman's when I was doing work for the Westminster, but I never spoke to him."

"Swinburne?"

"No. At one time I never opened the Athenæum without seeing him classed with Wordsworth and Tennyson, which to me was simply non-understandable."

About William Watson Mr. Massey remarked, "He has the grand style, the grand manner, but I do not see the grand matter."

Mr. Massey told me that if he can complete the undertaking in which he is engaged, he will consider his work is done, and will be content to rest. "I shall exploit every grain of my nature before I get through. I do not fool away my time or energy, or run risks, but keep steadily on. At Ward's Hurst for a time I worked twelve hours a day seven days a week. Now I sit down to my desk about half-past nine. In the winter I work on until half-past one, when I dine; in the summer I sometimes go out for a walk at twelve. After dinner I always have a few minutes' nap; I find that a great help. I work on until dark. I have a third meal about half-past six, and go to bed soon after ten, and generally sleep like a top. I have no theories as to diet. I very rarely go to town. For the last eight years I have not gone out of the house during the six winter months."

"How do you take exercise?"

"Generally in the evening I walk for an hour or two round a table—say five miles. No, I don't get giddy; I am used to circle-making"—this with a light laugh. "No, I don't find my life monotonous or tedious. The explanation of my health and happiness is that I do not rely on externals. You know Swedenborg and William Blake claimed a kind of inner breathing. I know that is possible. I have got at times to where I find there seems to be no further need of expiring, it is all inspiration. I consider that consciously or unconsciously we all draw life from the spirit-world, just as we shall when we pass into it. I never felt younger than I do now." Mr. Massey is the picture of health and contentment.