The admirers of Mr. Allingham's many beautiful ballads, so full of Irish nature, have wondered whether he would fulfil the promise which was given in his poetry from the first. They will be anxious to know whether he has done so in his new, book. If they expected him to fulfil his promise in the same kind of writing, they will probably be disappointed. A poet who makes progress cannot do that. He makes as a present of that which he has done, and however much we may admire the pattern and bespeak likenesses of it, be cannot go on making copies of what he first produced. He must strike out in new directions. And there will inevitably be a look of strangeness in the new work. It will not compare, at first sight, with the old favourite strains which have mellowed with time and grown dearer with old acquaintanceship. Let us, however, frankly say that we are not disappointed with 'Laurence Bloomfield in Ireland.' The author might, no doubt, have done, and will yet do, something different. But this bit of work he has chosen to do; he has done it manfully and honestly. And we say that, placed where he is, seeing what he has seen, and knowing what he knows, he could not, for the time being, have done better. The old theory that the signs of genius are shown most significantly when a poet takes to that which lies far away from his experience and revels in remoteness, is now pretty well exploded. Mr. Allingham only follows the modern tendency in turning to whatsoever lies close about us to paint his picture of that present in which we live and move and have our being. He also had the urgency of an imperative national call so to do.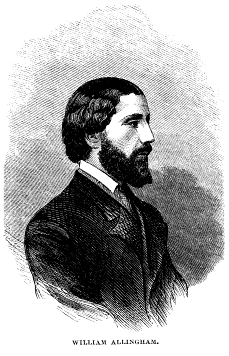 (1824-89)
With affectionate yet unfearing fidelity, the poem gives us a little plot of Ireland as it is; which plot, we doubt not, very faithfully mirrors a much larger world. It is Ireland in miniature. It is vital with the national character. It has the colour of the country. The land of many sorrows and wrongs, chiefly self-inflicted, which is loved so dearly by the people who will put their hands in their own pockets, and look and expect the Deliverer to come from somewhere over the sea, and leave it with all their feelings clinging to that bit of earth in which they for ever fail to take root,—the people who, while starving, can sing of Ireland as the land of plenty and hospitable cheer, and while floundering, half swamped in bogs, can be content with a country in Cloudland, and have poetry enough in their nature to enjoy the stars through the rents of a wretched roof. Mr. Allingham portrays the place and people fairly; states his case justly. He knows his countrymen, from peer to peasant. He has the humour to appreciate the pathos of the "poor industrious innocent, whose only fault is owing five years' rent." He admits—
That common evils which to life belong,
Patricians will account a personal wrong;
Suckled on grievances, his mind is bent
To charge on others all his discontent;
Half curses England when his toothache stings,
Half blames the Established Church for frosty springs
And rainy summers; thinks it passing hard,
From any joy of life to live debarred.
As tho' the English, French or German poor
Lead plenteous lives, with nothing to endure.
The story is from the life of Laurence Bloomfield, a young Irish landlord, who comes into possession of his property with a full determination to do his best, put his own shoulder to the wheel, call his people round him to his and their own help, and see if the old wretched state of things between rich and poor cannot be somewhat mended, even by the will of one man. He keeps his faith burning warm and bright within him, in spite of many a cold blast of sore discouragement without; and, with the aid of a true wife, he succeeds at length in creating one firm bit of foothold in the wilderness of surrounding bog on which to build his model world of happier humanity. But we have omitted to introduce him to the reader:—
Bloomfield is Irish born and English bred,
Surviving heir of both his parents dead;
One who has studied, travelled, lived, and thought,
Is brave, and modest, as a young man ought;
Calm—sympathetic; hasty—full of tact;
Poetic, but insisting much on fact;
A complex character and various mind,
Where all, like some rich landscape, lies combined.
The sketches of local persons amongst whom his future lot is cast seem to us very real and tangible. We were scarcely prepared to look for such bright, piquant, incisive strokes in Mr. Allingham's work. Sometimes the lines will bite into the mind with their epigrammatic point as diamond bites into glass. We take a few brief specimens of felicitous description almost at random:
The Curate.

How does a man with seventy pounds a year
In virgin linen every day appear?
Spotless his shirts are, spotless too his life;
Stiff in cravat and dialectic strife,
He shuns the popish priests, and flogs the Pope,
Nor may the Methodist for mercy hope;
Much milk of human kindness, too, he carries,
A little soured with dogma, thro' the parish,
And plays a half-divine, half-human part
With many a pious flirting female heart.

Parson Boyd's Four Daughters and Wife.

The first is clever—writeth books, be sure;
The second Sunday-schools the drowsy poor
By rote, on unintelligible things;
Another of the damsels plays and sings;
The fourth professes, merely flaxen curls.
What is their Mother?—slave to these four girls!

Isaac Brown the Methodist.

And hear him pray, with fiercely close—shut eyes!
Gentle at first the measured accents rise,
But soon he waxes loud, and storms the skies.
Deep is the chest, and powerful bass the voice,
The language of a true celestial choice;
Hand-organ-wise the holy phrases ground,
Go turning and returning round and round;
The sing-song duly runs from low to high;
The chorused groans at intervals reply;
Till after forty minutes' sweat and din,
Leaving perhaps too little prayer within,
Dear Brother Brown, athletic babe of grace,
Resumes his bench, and wipes his reeking face.
And if among the audience may be found
One who received two shillings in the pound
When merchant Isaac, twenty years ago—
Then talking pious too, but meek and low—
Was chastened by the Lord,—with what delight
Must he behold the comfortable plight,
And sacred influence of this worthy man.

Sir Ulick Harvey.

He sometimes took a well-meant scheme in hand,
Which must be done exactly as he planned;
His judgment feeble, and his self-will strong,
He had his way, and that was mostly wrong.

Lady Harvey.

My Lady Harvey comes of Shropshire blood,
Stately, with finished manners, cold of mood;
Her eldest son is in the Guards; her next
At Eton; her two daughters—I'm perplexed
To specify young ladies—they are tall,
Dark-haired, and smile in speaking, that is all.

Lord Crashton.

Twice only in the memory of mankind
Lord Crashton's proud and noble self appeared;
Up-river last time, in his yacht he steered,
With crew of seven, a valet, a French cook,
And one on whom askance the gentry look,
Altho' a pretty, well-dressed demoiselle,—
Not Lady Crashton, who, as gossips tell,
Goes her own wicked way. They stopped a week.
Then with gay ribbons fluttering from the peak,
And snowy skirts spread wide on either hand,
The Aphrodite curtsied to. the land,
And glided off, My Lord with gouty legs,
Drinks Baden-Baden water, and life's dregs,
With cynic jest inlays his black despair,
And curses all things from his easy chair.
Better still is the homely description of a more distinctly national character, notably that of the Doran family, who have maintained their fight for years

'Gainst marsh and rock, and furze with all its spears.

The father, wise in his day and generation, with his prefacing cough and secretly scanning eyes, "who sucked his pipe and shook his head" when people talked of "Tyrants," and—
Held the maxim that, in prosperous case,
'Tis wise to show a miserable face;
A decent hat, a wife's good shawl or gown
For higher rent may mark the farmer down;
Beside your window shun to plant a rose,
Lest it should draw the prowling bailiffs nose,
Nor deal with whitewash, lest the cottage lie
A target for the bullet of his eye;
Rude be your fence and field—if trig and trim
A cottier shows them, all the worse for him.
The daughter is thus charmingly portrayed:—
And where at kemp or kayley could be found
One face more welcome, all the country round?
Mild oval face, a freckle here and there,
Clear eyes, broad forehead, dark abundant hair,
rare placid look that show'd a gentle nature,
Firm, unperplex'd, were her; the Maiden's stature
Graceful arose, and strong, to middle height,
With fair round arms, and footstep free and light;
She was not showy, she was always neat,
In every gesture native and complete,
Disliking noise, yet neither dull nor slack,
Could throw a rustic banter briskly back,
Reserved but ready, innocently shrewd,—
In brief, a charming flower of Womanhood.

The girl was rich, in health, good temper, beauty,
Work to be done, amusement after duty,
Clear undistracted mind, and tranquil heart,
Well-wishers, in whose thoughts she had her part,
A decent father, a religious mother,
The pride of all the parish in a brother,
And Denis Coyle for sweetheart, where the voice
Of Jack and Maureen praised their daughter's choice.
More could she ask for? grief and care not yet,
Those old tax-gatherers, dunn'd her for their debt;
Youth's joyous landscape round her footsteps lay,
And her own sunshine made the whole world gay.
It is at a time big with fate for the little local world when Laurence enters on his duties as a proprietor. The neighbouring landlords have determined on using strong measures. The Ribbonmen sit in secret conclave, serve their notices, and execute vengeance. Here is a notice served upon Pigot, who is agent for Bloomfield and his uncle:—
Take Notis, Big gut, if one claw you lay
On Tullah, you'll for ever roo the day—
So change your time, and quickly, or by God
This warning is your last—we'll have your blud;
Sined Captin Starlite.
In spite of this however, the uncle insists on the evacuation of Tullah, and the bailiff sees it carried out with the aid of policemen, crowbars and rifles. This eviction scene is the sort of thing that has made so many of the Irish people lift their eyes, and look and long for the free forests of the Western World, as the Israelites of old may have yearned for the promised land of Canaan. It may serve to set people thinking on the various causes of that exodus which threatens to cover the land with the shadow of desolation that seems to have already fallen upon the hearts of thousands:—
The Eviction.

In early morning twilight, raw and chill,
Damp vapours brooding on the barren hill,
Through miles of mire in steady grave array
Threescore well-arm' d police pursue their way;
Each tall and bearded man a rifle swings,
And under each greatcoat a bayonet clings;
The Sheriff on his sturdy cob astride
Talks with the Chief, who marches by their side,
And, creeping on behind them, Paudeen Dhu
Pretends his needful duty much to rue.
Six big-boned labourers, clad in common frieze,
Walk in the midst, the Sheriff's staunch allies;
Six crow-bar-men, from distant county brought,—
Orange, and glorying in their work, 'tis thought,
But wrongly,—churls of Catholics are they,
And merely hired at half-a-crown a day.

The Hamlet clustering on its hill is seen,
A score of petty homesteads, dark and mean;
Poor always, not despairing until now;
Long used, as well as poverty knows how,
With life's oppressive trifles to contend.
This day will bring its history to an end.
Moveless and grim against the cottage walls
Lean a few silent men: but some one calls
Far off; and then a child 'without a stitch'
Runs out of doors, flies back with piercing screech,
And soon from house to house is heard the cry
Of female sorrow, swelling loud and high,
Which makes the men blaspheme between their teeth.
Meanwhile, o'er fence and watery field beneath,
The little army moves through drizzling rain;
A 'Crowbar' leads the Sheriff's nag; the lane
Is enter'd, and their plashing tramp draws near;
One instant, outcry holds its breath to hear;
"Halt! "-at the doors they form in double line,
And ranks of polish'd rifles wetly shine.

The Sheriff's painful duty must be done;
He begs for quiet—and the work's begun.
The strong stand ready; now appear the rest,
Girl, matron, grandsire, baby on the breast,
And Rosy's thin face on a pallet borne;
A motley concourse, feeble and forlorn.
One old man, tears upon his wrinkled cheek,
Stands trembling on a threshold, tries to speak;
But, in defect of any word for this,
Mutely upon the doorpost prints a hiss
Then passes out forever.Through the crowd
The children run bewilder'd, wailing loud;
Where needed most, the men combine their aid;
And, last of all, is Oona forth convey'd,
Reclined in her accustom'd strawen chair,
Her aged eyelids closed, her thick white hair
Escaping from her cap; she feels the chill,
Looks round and murmurs, then again is still.

Now bring the remnants of each household fire;
On the wet ground the hissing coals expire;
And Paudeen Dhu, with meekly dismal face,
Receives the full possession of the place.

Whereon the Sheriff, "We have legal hold.
Return to shelter with the sick and old.
Time shall be given; and there are carts below
If any to the workhouse choose to go."

A young man makes him answer, grave and clear,
"We're thankful to you! but there's no one here
Going back into them houses: do your part.
Nor we won't trouble Pigot's horse and cart."
At which name, rushing into th' open space,
A woman flings her hood from off her face,
Falls on her knees upon the miry ground,
Lifts hands and eyes, and voice of thrilling sound,
"Vengeance of God Almighty fall on you,
James Pigot!—may the poor man's curse pursue,
The widow's and the orphan's curse, I pray,
Hang heavy round you at your dying day!"
Breathless and fix'd one moment stands the crowd
To hear this malediction fierce and loud.

Meanwhile (our neighbour Neal is busy there)
On steady poles be lifted Oona's chair,
Well-heap'd with borrow'd mantles; gently bear
The sick girl in her litter, bed and all;
Whilst others hug the children weak and small
In careful arms, or hoist them pick-a-back;
And, 'midst the unrelenting clink and thwack
Of iron bar on stone, let creep away
The sad procession from that hill-side grey,
Through the slow-falling rain. In throe hours more
You find, where Ballytullagh stood before,
Mere shatter'd walls, and doors with useless latch,
And firesides buried under fallen thatch.
One result of this eviction is astern decision of the secret society, and a bloody revenge executed on Pigot, the bailiff, in a lonely lane, by members of the lurking fraternity:—
For many weeks from every wall and gate
Stared "Murder" and "Reward" in letters great,
Two hundred pounds the Lord Lieutenant's bribe,
One thousand which the gentry round subscribe,
But all in vain; for his employer dead,
The spy took mortal fear to heart, and fled.
Few even dared to read the bills, and they
Walked off in silence; if they said their say,
'Twas said with caution and in secresy.
A huge converging crowd of low and high
Had swelled the costly funeral and flowed
In solemn pomp, outstretched along the road.
The native press was vocal and the Times
Anew said something old on Irish crimes.
And meanwhile, bringing softly night and day,
The round earth rolled on her appointed way,
With dead and living, mid the starry quire,
Brimmed with material and celestial fire,
And to and fro, with emmet's briskness, ran
The shifting, multifarious brood of man.
Laurence Bloomfield and his lady labour hard and long to make their outer world bright all round them with the inner sunshine of their own happiness; their social creed the very opposite to that of those who are
Using—faith, hope and charity being dead—
Political Economy instead!
—And they live to see that the creed of faith, hope and charity results in the best kind of political economy after all.

Neighbouring proprietors looked askance on Bloomfield and his well-meant but extremely futile efforts, or laughed at his foolish faith and puerile plans for a time, but—
At last the world made up its mind to say,
"An odd man, truly!—he must have his way."
For thus old habitudes themselves protect,
As our own body; failing to eject,
Sheathes an intrusive particle.
Just so. Only dare to do the right thing boldly and persistently, and somehow the world will manage to put up with it. Mrs. Grundy will screech that you must not do this or the other; but when she finds you intend to do it, why then she says you may.

The poem concludes symbolically. Bloomfield and his wife are seated on a summit, overlooking the domains in which they have worked to bless the land and brighten the face of its people. The wife is still more hopeful of Ireland's future than her husband, who says—
This mild, green country in the western sea,
With guardian mountains, rivers full and free,
Home of a brave, rich-brained, warm-hearted race,—
This Ireland should have been a noble place.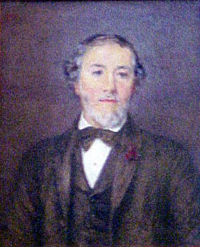 Allingham by his wife.
"It will be," Jane replied. And so we hope it may be. It surely will, if the strength of Ireland's effort is equal to the earnestness of England's good wishes. And this book is calculated to hasten on the work, create the better spirit, and bring about the result so much to be desired.

Happy poetic touches are plentiful enough in this poem, but we have not paused to point them out where they lurked with a subtle shining, like dew in the grass. We have devoted more attention to its purpose. It is a plea for tenant-right; a poem for statesmen to read. A great deal of thought and feeling and artistic power have gone to the making of it. The verse chosen is a good old-fashioned sort, quite adequate to the purpose. It has something of Pope's point and Goldsmith's simplicity, touched to a more modern issue.