Lave in it, drink of it
Then if you can;
and so they are cut out of 'The Bridge of Sighs.'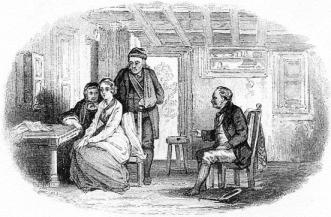 Auld Robin Gray
'Playtime with the Poets' is an elegant volume, the outward appearance of which would make us desire to say the very best for a bonny-looking book. It is beautifully printed, admirably bound, and just adapted in size and shape for the hands of children. Unfortunately, it is wretchedly edited. The want of knowledge is unpardonable. The "lady" starts nearly on the right track for producing such a book in giving every prominence to the poetry of action and incident, only she does not keep to the track. Then, we suspect, she soon loses sight of the sort of poetry a boy would best appreciate, and obtrudes her own taste, which is too sentimental. It leans too much in the direction of Mrs. Hemans, L. E. L. and Longfellow. We need something more robust for English boys—more of the blue breezy sea and the merry greenwood. Something about Robin Hood would have been acceptable. Ferguson's 'Forging of the Anchor' would have supplied better stuff. Browning's 'Pied Piper' should certainly be in any collection of poetry intended for children at playtime. But the omissions are numberless. Here is neither Hood's 'Parental Ode,' 'I Remember,' nor 'The Dream of Eugene Aram,'—Browning's 'Home Thoughts,' nor 'Incident in the French Camp,'—Allingham's 'Up the airy Mountain';neither of the 'Cuckoos,' Wordsworth's nor Logan's, Tennyson's 'Lady Clare' nor 'The Brook.' And if it was necessary to go to the German, why select such hackneyed translations as those from Bürger, when there remained such poems as Ruckert's 'Ride round the Parapet,' Freiligrath's 'White Lady,' the old popular ballads of 'The Fisherman's Hut' and the 'Great Crab in the Lake Mohrin,' and scores more, fresh and full of attraction? Any complete collection of the kind should include 'The Fairy Thorn,' by Ferguson, 'John Tod,' by the Baroness Nairn, 'The Child-Mother,' by Mr. Macdonald, and 'The Wife of Usher's Well,' with at least two or three specimens of William Blake, who was half an angel and half a child imperfectly mixed in manhood, but a dear lover of children and a writer for them. The editor of this volume is either very careless or ignorant with regard to names. "Cullen Bryant" is not the name of any poet we know, and it makes us wonder whether he be a son of "William Cullen Bryant," whom we all know. Nor is "Arnold" a sufficient signature to a poem. There are at least three "Arnolds." 'The Grave of the Greyhound' is attributed to "Spencer." Does not the "Lady" know that there is but one "Spenser" in English poetry? There was an Hon. William Robert Spenser, a dandy who wrote vers de société,—the man of whom Rogers tells the anecdote. Moore wished that Spenser would bail him when in custody after the duel with Jeffrey, and Rogers says Spenser did not seem much inclined to do so, remarking that he could not very well go out, for "it was already twelve o'clock, and he had to be dressed by four." This was the Spenser who wrote 'The Grave of the Greyhound.' Why has the present editor left out the last stanza of the poem, with which the story properly concludes? Without it the title is inappropriate. Why also has she sometimes ventured on new readings which are so evidently all her own, as in the ballad of 'Sir Patrick Spens'? Such lines as these—
The king has written a letter broad.
Oh, who is this hath done this deed,
To tell the king of me?
While I go up to the tall topmast
To try if I can't see land.
sound inexpressibly ludicrous. The editor has been trying to English the Scotticisms, and has made sad work of it. Hero is the chief example in the opposite case:—
And there lies good Sir Patrick Spens,
With the Scots Lairds at his feet.
"Lord" and "Laird" are as one to the editor; and here she has given the Scotch the benefit of their own language, not knowing the difference betwixt the Lords of the Scottish court and the Lairds who are farmers on their own lands. If possible, the version of 'Auld Robin Gray' is still worse. We cannot do better than print most of this, as a warning to all meddling editors not to make a series of alterations in lines which they do not understand.—
When the sheep are in the fauld, when the kye come hame,
When a' the weary warld to QUIET rest are gane;
The woes of my heart fa' in showers fra' my ee,
Unkenned by my gudeman, who soundly sleeps by..

Young Jamie laved me weel, and sought me for his bride,
But saving ae crown-piece he'd nothing else beside.
To make the crown a pound, my Jamie gaed to sea,
And the crown and the pound, O they were baith for me!

Before he had been gane a twelvemonth and a day,
My father brak his arm, our cow was stown away;
My mother she fell sick-my Jamie was at sea;
And Auld Robin Gray, oh! he come a-courting me.

* * * * *

My heart it said na, and I looked for Jamie back;
But hard blew the winds, and his ship it was a wrack;
His ship it was a wrack ! Why didna Jamie dee ?
And wherefore am I spared to cry out, Woe is me!

My father urged me sair, my mother didna speak,
But she looked in my face till my heart was like to break.
They gied him my hand, but my heart was in the sea;
And so Auld Robin Gray, he was gudeman to me.

I hadna been his wife a week but only four,
When mournfu' as I sat on the stone by my door,
I saw my Jamie's ghaist—I couldna' think it he,
Till he said, "I'm come home, my love, to marry thee!"

O sair, sair did we greet, and mickle did we say;
Ae kin we took, nae mair—I bad him gang away.
I wish that I were dead, but I am no like to dee;
For O, I am but young to cry out, Woe is me!

I gang like a ghaist, and I carena much to spin;
I darena think o' Jamie, for that wad be a sin;
But I will do my beat a gude wife aye to be,
For Auld Robin Gray, oh ! he is sue gude to me.
There are various versions of this ballad, and the author herself in later life made some corrections and changes, which were no improvements, but only did for the poem what Burns in his second version did for the 'Banks, and braes o' bonny Doon.' But if Lady Anne Lindsay had written the above copy, her ballad would never have sunk so deeply into the human heart. Had twenty-four cockney tailors crossed their legs and leaned their heads, together over it, they could not more effectively have turned its tears of pathos into a little salt water. The editor has never felt the music of it, which pauses so touchingly on certain accented words, as though the voice choked while the misery looks out of the eyes with a yearning wistfulness. So she ekes out the lines to the regular jog-trot measure with spriggish exclamations, that are only fit for "sweetly pretty" poetry.

And wherefore am I spared to cry out, Woe is me?

Is not that mixture of Little Bethel cant and slang enough to give us what the Scotch call a scunner? Again, the line,

For O, I am but young to cry out, Woe is me!

is given in place of the line in one version,

For tho' my heart is broken, I'm but young, woe Is me!

with all the pathos gone. We point out one more specimen of "gushing" young-ladyism in the last line, and need not seek any further the beauties "to disclose," unless it be to remark, that in the very first line the "Lady" has strayed into the Ettrick Shepherd's song, 'Come all ye jolly Shepherds.' Children would have felt the natural touches of this poem more than the editor has done, being nearer to nature.

What are we to make of such a reading of Shirley's stately poem, called 'Death the Leveller,' as this?—
The glories of our birth and state
Are shadows, not substantial things;
There is no amour against fate;
Death lays his icy hand on kings.
Sceptre and crown
Must tumble down,
And in the dust be equal made
With the poor crooked scythe and spade;
All heads must come
To the cold tomb:
Only the actions of the just
Smell sweet, and blossom in the dust.
—Thus is the march of the measure destroyed, and three perfect stanzas knocked into nothing. Again, in 'Robin Goodfellow,' the opening lines; beginning "From Oberon in Fairyland,"—so well known by Stevens's superb setting,—are left out. The poem is here attributed to Ben Jonson, although he is only the supposed author. Our editor, however, is not particular to a shade: she boldly ascribes the anonymous poem, called 'The Fairy Queen,' from the 'Mysteries of Love and Eloquence,' 1658, to Shakspeare. This is the poem from which Horsley has set 'Come follow, follow me.' It is one of several that were written in the wake of the 'Midsummer Night's Dream,' under the fairy influence. But, there is no probability whatever of its being Shakspeare's.

Possibly there may still be merit enough in the book to recommend it to the uncritical community for which it was published, but if a selection be worth making, it ought to insure the best workmanship possible, and the result should be a sort of celebration of the wedding of true taste and complete knowledge. The only verses in this volume which we have never met before are the following:—
BABY SLEEPS.
The Baby wept;
The Mother took it from the Nurse's arms,
And husht its fears, and soothed its vain alarms,
And Baby slept.

Again it weeps,
And God doth take it from the Mother's arms—
From present griefs and future unknown harms,
And Baby sleeps.
'Playtime with the Poets,' however, compares favourably with the six volumes called 'Beautiful Poetry.' This work is stated to have had the advantage of several editors. And most assuredly no one editor could have contributed all the blunders and mistakes. Such a heap of rubbish and gems was never before swept up. Such a display of folly and presumption we do not remember in connexion with English poetry. Many of the poems are printed twice; at first we fancied this might be a way of marking those which were considered particularly good, but we found the same method adopted with those which were particularly bad.

The collection seems to have been made up of cuttings from old newspapers, magazines and annuals, with no knowledge of authors and their works. The errors and blunders are amazing. Here is one prime specimen. The note is so good that we give it: 'The Lady's Dream,' from an old magazine, where it appeared anonymously. It is an admirable imitation of the style and sentiment of Hood, and the author, if it was not himself, ought to achieve as great a fame." That is delicious, coming, as it does, so many years after Hood's poems were collected. Two other of Hood's well-known, poems are treated in a similar way. 'The Sailor's Consolation' is attributed to Charles Dibdin instead of William Pitt. This, however, is a common error, though one we should like to see strangled. Of richer flavour is the proclaimed belief that the Author of 'Singleton Fontenoy' was an American! Dora Greenwell is also said to be an American poetess; her identity being absorbed in that of Grace Greenwood. At one time we find Robert Story announced as an American poet, and at another as a Northumberland peasant. On one page we read that Mr. Hedderwick is the author of a little poem called 'Sorrow and Song,' and on another the same poem is set down to an author unknown. A poem entitled 'Believe in God,' which will be found in 'Reverberations,' is called "An Energetic Lyric from 'The Purgatory of Suicides,' by Thos. Cooper." It is needless to state that this latter poem is in the Spenserian stanza, and contains no lyric. John Clare, we here learn, died years ago in a madhouse. This is twice announced; but we fancied he was still in the asylum at Northampton. Dean Alford, we are told, is "one of the most promising of our young poets." There is no need for us to go on enumerating such mistakes as these.