Lancashire Songs.

By Edwin Waugh.

London: Simpkin, Marshall & Co., Paternoster Row.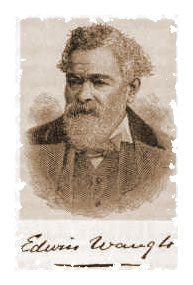 Edwin Waugh
(1817-90)
IF our poetical readers are not yet acquainted with the 'Lancashire Songs' of Mr. Edwin Waugh, we would recommend them to become so. These songs are simply delightful. They bring into literature a breath of the country such as the honest old creaking market-­carts bring into London in the early summer mornings. Not merely a whiff of fragrance from garden flowers, but a racy smack of the soil, fresh earth and fruity flavour,—a heathery sweetness and a vegetable bouquet. They have already made their way to the hearts of the Lancashire folk, or rather, they are known and enjoyed at home, where they sprung, without the need of much critical aid. It has been with them as with the early poems of Burns, which were heartily appreciated by peasants in Kyle long before they won their welcome from the learned of Edinburgh. We have seen how the Lancashire faces will brighten and eyes twinkle, and heard the rafters ring, in echo to these songs, which, like the people, are fine, frank-­faced, ruddy-hearted, warm-handed specimens of genuine humanity, with a mellowing moisture of mirth, that softens the shrewd, keen eye,—a reek of humour in the worldly wisdom.

One of the most popular pieces is entitled—
COME WHOAM TO THI CHILDER AN' ME.
Aw've just mended th' fire wi' a cob;
Owd Swaddle has brought thi new shoon;
There's some nice bacon collops o' th' hob,
An' a quart o' ale-posset i' th' oon;
Aw' ve brought thi top cwot, does ta know,
For th' rain's comin' deawn very dree;
An' th' har' stone's as white as new snow;
Come whoam to thi childer an' me.

When aw put little Sally to bed,
Hoo cried, 'cose her feyther weren't theer,
So aw kiss'd th' little thing, an' aw said
Thae'd bring her a ribbin fro' th' fair;
An' aw gav her her doll, an' some rags,
An' a nice little white cotton bo';
An' aw kiss'd her again; but hoo said
At hoo wanted to kiss thee an' o.

An' Dick, too, awd sich wark wi' him,
Afore aw could get him up stairs;
Thae towd him thae'd bring him a drum,
He said, when he're sayin' his prayers;
Then he looked i my face, an' he said,
" Has th' boggarts taen houd o' my dad?"
An' he cried whol his een were quite red;—
He likes thee some weel, does yon lad!

At th' lung-length aw geet him laid still;
An' aw hearken't folks' feet at went by;
So aw iron't o' my clooas reet weel,
An' aw hanged em o' th' maiden to dry;
When aw'd mended thi stockin' s an' shirt,
Aw sit deawn to knit i' my cheer,
An' aw rayley did feel rayther hurt—
Mon, aw'm one-ly when theaw artn' t theer.

"Aw've a drum and a trumpet for Dick;
Aw've a yard o' blue ribbin for Sal;
Aw've a book full o' babs; an' a stick,
An' some bacco an' pipes for mysel;
Aw've brought thee some coffee an' tay-
Iv thae'll feel i' my pocket, thae'll see;
An' aw've bought tho a new cap to-day,—
But aw olez bring summat for thee!

God bless tho, my lass; aw'll go whoam,
An' aw'll kiss thee an' th' childer o' reawnd;
Thae knows, at wheerever aw roam,
Aw'm fain to get back to th' owd greawnd;
Aw can do wi a crack o er a glass;
Aw can do wi' a bit ov a spree;
But aw've no gradely comfort, my lass,
Except wi' yon childer and thee."
Very admirably this song tells how the working man's worthy wife may lure home the husband who might be otherwise inclined to stay too long by the way; but it is by no means the best. The author is especially strong on this ground of working men's homes and wives. The home-feelings and fireside felicities which cheer the lot of the lowliest poor, are made to glow within the house and smile out of the window with their comforting radiance, just as the lonely cottage light may twinkle across the wintry common and warm up both heart and landscape. Would that such interiors were more plentiful in the homes of the poor! There would then be fewer heart-sick poor fellows rushing off to the public-house for the sake of its clean floor and cheerful fire, its gleam of comfort and chance of pleasant chat.

We know right well that one of the most wonderful revelations hereafter will be made by the lives that have been lived by the women of the poor in this world. In many a dim and dirty nook of poverty has the place been sweetened and the heart cheered with the breath of these flowers of God—the violet virtues and wild-flower graces nestling there. These are the nobility of the poor, who have borne their lowly lot with a lofty cheer, and whose natures have passed through the furnace of affliction to lose their dross, and come forth in purity and strength as the thrice-refined gold. But we know of nothing more charming than one or two of the wifely women of these songs. There is no need to make poetry about them, for they are poetry itself—poetry of a homely and most loveable sort, not
too bright or good
For human nature's dally food;
but fit for a hard-working world—poetry in real flesh and blood, which fills a man's two arms with warm womanhood as well as his heart with heaven. Here is such a woman and darling of a wife. She has been waiting for her husband's coming home through the wet.—
COME, JAMIE, LET'S UNDO THI SHOON.
Come, Jamie, let's undo thi shoon,
An' don summat dry o' thy feet;
Wi' toilin' i th sheaw'r up an' deawn,
Aw'm fleyed at thi stockin' s are weet;
An' here, wi' my yung uns i'th neest,
Aw bin hearkenin' to th' patterin rain,
An' longing for th' wanderin' brid
To come to his roost back again.

To-day, just when it pelted at th' height,
"Aw'll ston it no longer," said I;
An' rayley, it didn't look reet
To keawer under cover so dry:
So, though it were rainin' like mad,
Aw thought—for my heart gav a swell,—"
" Come deawn asto will, but yon lad
Shall not have it o' to hissel'!"

So, whippin' my bucket i'th rain,
Aw ga' th' bits o' windows a swill;
An', though aw geet drenched to my skin,
Aw're better content wi' mysel':
But, theaw stons theer smilin' o' th' floor,
Like a sun-fleawer drippin' wi' weet:
Eh, Jamie, theaw knowsn't, aw'm sure,
Heaw fain aw'm to see tho' to-neet!

"Why, lass, what's a sheawer to me?
Aw've plenty o' sun i' my breast,
My wark keeps me hearty an' free,
An' gi's me a relish for rest:
Aw'm noan made o' sugar nor saut,
That melts wi' a steepin' o' rain;
An', as for my jacket,—it's nought,—
Aw'll dry it by th' leet o' thi e'en!

So, sit tho deawn close by my side,—
Aw'm full as a cricket wi' glee;
Aw'm troulble't wi' nothin' but pride,
An' o' on it owin' to thee;
Theaw trim little pattern for wives;—
Come, give a poor body a kiss!
Aw wish every storm ov er lives
May end up as nicely as this!"
That has a heartiness quite akin to the large-hearted welcome and warm-welling womanliness of the ballad, "There's nae luck about the house." The wife's getting heroically wet through because he is out in the rain, is glorious indeed!—whilst that sunburst of a splendid compliment is fine enough to kiss her dry again. The humour, also, of some of the pieces is akin in its sly pawkiness to that of Burns's 'Tam Glen.' In one poem, called 'Jamie's Frolic,' the husband comes home weary from work and finds the house nice and tidy; his wife sits cosily by the fire. All looks so perfectly comfortable, that Jamie does not feel quite the thing; he cannot tell "what the devil ails him"; but the kinder she is the queerer he gets, and he thinks,
Aw could just like a snap at eawr Mall.
That's his wife. So he begins to hurt her feelings by telling her he will go out on a frolic. And this in repayment for all her hard work and thoughtful care for him! Jamie, however, soon finds the "fat's i' the fire," and he must not increase the blaze; so be tries on a bit of his old courting, and soon shows her that she was altogether in the wrong.—
Till hoo took mo bi'th' hond, with a tear in her e'e,
An' said, "Jamie, there's noabry as tender as thee."
The following, however, is a more special illustration of the humour we mentioned:—
THE DULE'S I' THIS BONNET O' MINE.
The dule's i' this bonnet o' mine;
My ribbins 'Il never be reet;
Here, Mally, aw'm like to be fine,
For Jamie'll be comin' to neet.
He met me i'th' lone tother day,—
Aw're gooin' for wayter to th' well,—
An' he begged that aw'd wed him i' May;—
Bi'th' mass, iv he'll let me, aw will!

When he took my two honds into his,
Good Lord, heaw they trembled between;
An' aw durstn't look up in his face,
Becose on him seein' my e'en.
My cheek went as red as a rose;
There's never a mortal can tell
Heaw happy aw felt; for, thea knows,
One couldn't ha' axed him theirsel'.

But th' tale wur at th' end o' my tung,—
To let it eawt wouldn't be reet,—
For aw thought to seem forrud wur wrung;
So aw towd him aw'd tell him to-neet;
But Mally, thae knows very weel,—
Though it isn't a thing one should own,—
If aw'd th' pikein' o'th' world to mysel',
Aw'd oather ha' Jamie or noan.


Neaw, Malley, aw've towd tho my mind;
What-wouldto do iv 'twur thee?
"Aw'd tak him just while he're inclined,
An' a farrantly bargain he'll be;
For Jamie's as greadly a lad
As ever stept eawt into th' sun;—
Go, jump at thy chance, an' get wed,
An' may th' best o'th' job when it's done!"

Eh, dear, but it's time to be gwon;
Aw shouldn't like Jamie to wait;
Aw connot for shame be too soon,
An' aw wouldn't for th' world be too late:
Aw'm o' ov a tremble to th' heel,—
Dost think at my bonnet'll do?—
"Be off, lass,—thae looks very weel;—
He wants noan o'th bonnet, thae foo!"
Such are a fair sample of these 'Lancashire Songs.' It will be seen that the writer aims low and hits the mark. Here are no high-flown raptures of poetry—no lightnings of inspiration from cloudy heights. All is simple and familiar. But the writer has the power to lift a veil from familiar things and show an unfamiliar face. He is not one of those poets who are rather like the Highlander's dog, "sairly oppressed with the seriousness of life, and canna get just half fightin' enough." His characters fight and frolic, work hard, and have their marlock and music, and then sleep sound as ever the old Saxons did to the low pleasant humming of mead in the brain. He gives us delicious peeps into happy homes—"infinite riches in a little room"; or, in other words, a world of human wealth in the two rooms which the Scotch call a "but and ben." He also shows us something of that sturdy Lancashire character which keeps its heart up under the weightiest burthen, and will be saying something to put a smile on the saddest face of things. It would be a pity if the dialect should keep readers from this poetry, for it has many touches of genuine nature. The difficulty is only skin-deep, and many of the words are most expressive for humorous or pathetic purposes.