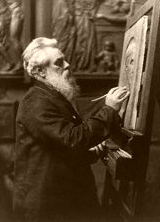 Thomas Woolner
(1825-92)
THIS poem is by a sculptor who has carried the realities of Pre-Raphaelite principles into portrait sculpture with success. The poem is remarkable for its gravity of feeling, its tender touches of beauty, and its oneness. It shows us that the Poet of Form might have been a Poet in Colour, and the life that has blanched in marble might have bloomed in verse. The writer has felt for himself, thought for himself, and made out his own music, with here and there a sign of invention in measure and rhythm. He has an eye alive to external nature, and the voice has the quiet emphasis of one who has been steadied by suffering. The many loving thoughts and beautiful fancies evidently blossom out of the real facts of life, and 'My Beautiful Lady' is the work of a thorough artist. The writer has strong affinities of nature and taste with those early Italian poets translated so affectionately by Mr. Rossetti; and at times his quaintness of manner may raise a smile, but we do not feel it to be an affectation, nor will it be objected to by any reader who is one of the initiated in the experience of loving and losing, and who knows that genuine grief will have its freaks of fancy and quaintness of expression. The poem was commenced years ago in the Pre-Raphaelite periodical called The Germ. The seed there dropped has here expanded into an acceptable flower, which, though springing from a grave, has fed on sunshine and dew and taken healthy bloom from the open air.

The story, if story it can be called, is told, or indicated, by the lover of the "Beautiful Lady," in various measures, which change according to the changing theme. Here we meet with the happy pair walking:
My Lady walks as I have watched a swan
Swim where a glory on the water shone:
There ends of willow branches ride
Quivering on the flowing tide,
By the deep river's side.

Fresh beauties, howsoe'er she moves, are stirred:
As the sunned bosom of a humming-bird
At each pant lifts some fiery hue,
Fierce gold, bewildering green or blue;
The same, yet ever new.
That is in the sunshine. The next is a Picture in the shade:
We wander forth unconsciously, because
The azure calmness of the evening draws:
When sober hues pervade the ground,
And universal life is drowned
Into hushed depths of sound.

We thread a copse where frequent bramble spray
With loose obtrusiveness from side roots stray,
And force sweet pauses on our walk;
I'll lift one with my foot, and talk
About its leaves and stalk.

Or may be that some thorn or prickly stem
Will take a prisoner her long garment's hem;
To disentangle it I kneel,
Oft wounding more than I can heal;
It makes her laugh, my zeal.

I recollect my Lady in the wood
Keeping her breath, while peering as she stood
There, balanced lightly on tiptoe,
To mark a nest built snug below,
Leaves shadowing her brow.
In many lines the subject is treated with such tender grace and quiet precision of delicate handling that we know it is a shame to hint such a thing, and yet we cannot help feeling that these walks in the woodland were continued too long and late, and had something to do with the Lady's early decline and sad death. The lover has scarcely sung his song of triumph,—
Warble, warble, warble, O thou joyful bird!
Warble, lost in leaves that shade my happy head;
Warble loud delights, laud thy warm-breasted mate,
And warbling shout the riot of thy heart,
Thine utmost rapture cannot equal mine.

Flutter, flutter, and flash; crimson-wingèd flower,
Parted from thy stem grown in land of dreams!
Hover and tremble, flitting till thou findest,
Butterfly, thy treasure! Yet thou never canst
Find treasure rich as my contented rest,—
when he sees his "Beautiful Lady" bowing with illness, and fading with the pallid droop of a lily, a glance of "chilly splendour" in her eyes,—her smile for him a "dawn-bright snowy peak,"—and
The heavy sinking at her heart
Sucked hollows in her cheek,
And made her eyelids weak,
Tho' oft they opened wide with sudden start.
At length the end came, and he stood
Awe-struck to see portentous loom
From her large eyes full gazing thro' the gloom,
Love darkly wedded to eternal doom.
And now she lies mouldering down into common dust:—
Birds twittering peck the variant weeds
That wave above this bed
Where my dear Love lies dead:
Their fluttering bursts the globèd seeds,
And beats the downy pride
Of dandelions, wide;
On spear-grass bowed with watery heads,
The wet uniting, drips
In sparkles off the tips:
In mallow bloom the wild bee drops and feeds.

No more she hears where vines adorn
Her window, on the boughs
Birds chirrup an arouse:
Flies, buzzing, strengthening with the morn,
She will not hear again
At random strike the pane:
No more on grass-plat newly shorn
With her gown's glancing hem
Bend down the daisy's stem,
In walking forth to view what flowers are born.
In a blank verse part called 'Years After,' the poem increases in strength of thought and grasp of feeling. The poverty of the great loss has passed into spiritual gain, and the "heartsease" has grown from out the grave of buried love. The life-roots that felt the killing cold of the dark earth have stirred with fresh sap, and the branches have put forth their leaf of tenderer green at the coming of a later spring. Past sufferings have purified the soul and cleared the vision for present duties, and the love that shed such a light about the feet has now hung up its little lamp of immortality overhead, safe beyond the region of storms. The poem concludes worthily in a pæan to "Work":—
Men may seem playthings of ironic fate:
One stoutly shod paces a velvet sward;
And one is forced with naked feet to climb
Sharp slaty ways alive with scorpions,
While wolfish hunger strains to catch his throat;
One drinks his purple draught, smacks lip and laughs,
One shuddering tastes his bitter cup and groans;
But there is hope for all. Tho' not for all
To sail thro' sunny ripples to the end
Chatting of shipwrecks as pathetic tales;
All are not born to nurse the dainty pangs
That herald love's completion, and behold
Their darlings flourish in the tempered air
Of comfort till themselves become the springs
Of a yet milder race: all are not born
To touch majestic eminence and shine
Directing spirits in their nation's sight
And radiate unformed posterity:
But thro' transcendent mercy all are born
To enter on a nobler heritage
Than these, if each but wills to rightly choose
In serving Duty, man's prerogative:
Which is far pleasanter than paths of flowers,
Than warmest clustering of household joys,
And prouder than the proudest shouts of fame
That follow actions not in conscience wrought.
Such a conclusion to the poem, with its dawn of a nobler life and glow of purer health, its removal of love's highest goal to the next life, its unfolding of the new strength necessary to reach that goal, is natural in the noblest sense, and for the work an artistic triumph. We regret that the poem has not been better read by the printer; a thing we have seldom to complain of now-a-days in books of verse.